Home
>
Products
>
Linkable Led Linear Light
> YB01Z Series
Item: YB01Z Series - Linkable LED ArrayLuminaire
Item: YB01Z Series
Product Name: Linkable LED ArrayLuminaire
A continuous-row LED lighting system could be created only by a trunking unit and a LED luminaire. It appears as a consistent continuous-row system, without any visual interruption or different reflectors. The luminaire and trunking are perfectly matched to each other.
Power: 32W-225W
Rated Voltage: 100-277V
Color Temperaturre: 3000k/4000k/5000k/6000k
Rendering Index: Ra>80
Dimming: NON/1-10V/DALI
Beam Angle: 30°/60°/90°/Single/Double Asymmetric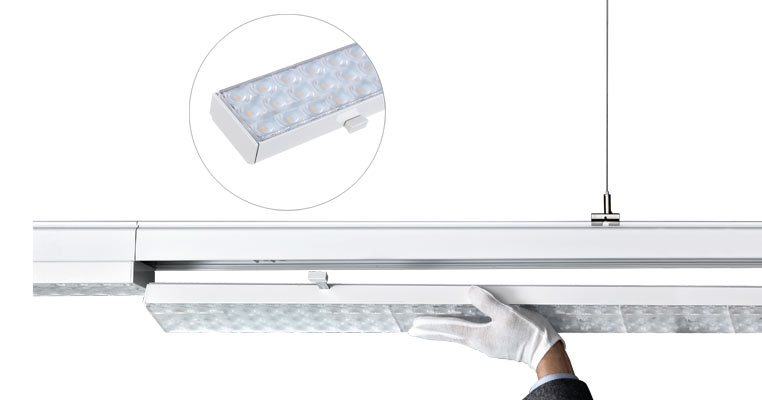 Features of LEDs
With a color rendering index of Ra>80, color temperatures of 3000k, 4000k, 5000k and 6000k, and low UGR, it could meet environmental requirements and comply with funding guidelines for energy-efficient building and lighting solutions.

For special applications where require high accuracy of color, such as in museum, jewelry store, pring factory and so on. CRI 95 linear series is highly recommended.
Technical Data
| | | | |
| --- | --- | --- | --- |
| Item No. | Length | Power | Lumen |
| YB01Z0632 | 577mm | 32W | 4160Lm |
| YB01Z1575 | 1432mm | 75W | 9750Lm |
| YB01Z30150 | 2861mm | 150W | 19500Lm |
| YB01Z45225 | 4297mm | 225W | 29250Lm |
LED Linear Lighting System
The LED linear lighting system is an energy-efficient , low maintenance better alternative to traditional linear fluorescent in a variety of industrial, commercial and light assembly applications. It is the optimal solution for conventional lighting systems and also excellent for new installations. Due to it's low installation cost, everything in one box and installtion is tool-less. It saves both time and costs when installing lighting systems. Also the LED linear lighting system is really good in terms of the low mantenance. That's typical for LED lighting and this also keep costs low.

Application
Warehouse
Supermarket
Underground parking garages
Wet indoor area
Production workshop
Railway station
Museum
Laboratories
And so on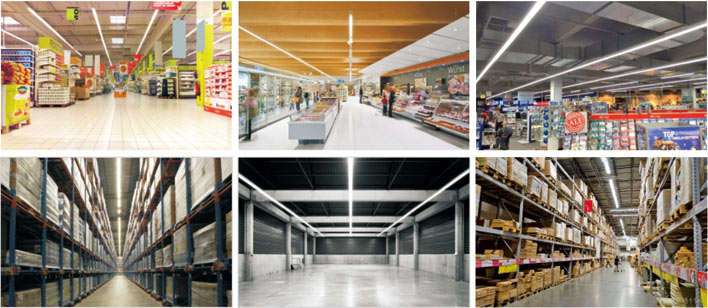 Trunking Rail
The flexible trunking system for lighting demands in all application, with full compatible modular kit, it adapts individually to complex lightingtasks. It has an 11-pole current conducting section built into its trunking. This means that the system comes ready equipped to meet tomorrow's needs. ll functions such as power suply, lighting control and connection to emergency lighting are seamlessly integrated into this multifunctional trunking. Luminaires can be positioned flexibly and the system can be adapted to suit structural alterations at any time.
The trunking rail is simply a matter of replacing or adding lighting modulars, light sources or optics as required.

A pre-wired 3-phases & 2.5 mm power suply.
Phase conversion function with connector.
Allow Max 16A and 200 meters trunking length in 3-phases power supply system.
Endless combination with diversified modulars.
Tool-free installation
Node connectors enable system to be connected in different directions.
Dimming, self-battery emergency or central emergency function as options.
Support surface ceiling mounting and suspension.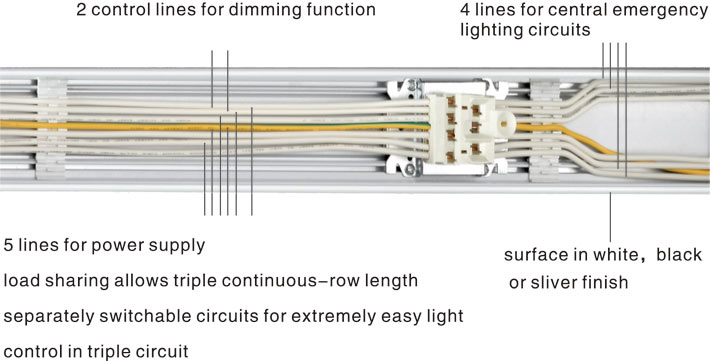 Node Connector
All system components can be combined without tools. L, T and X connectors expand the system's application range.

Each node connector has diverse of electrical feed-in and feed-out.
The node connector is not only to connection the cross trunking, but also to connect the wire inside the trunking. And the node connector itself could even be the electricity feed-in point.
Beam Angle
Different diffuser for different distribution.

Optics
A wide range of optics from sharp to wid distribution, as well as asymmetric.
Sharp distribution: 30 degree
Narrow distribution: 60 degree
Wide distribution: 90 degree
Flat distribution: 120 degree
Asymmetric distribution: left or right
Double asymmetric distribution: asymmetric
DALI and Dimming System
Efficient tools for lighting are the basis for solution with low operating overheads and high quality of light. Supplemented with suitable light control savings potential can be further significantly increased. The right type of light management depends decisively on the specific building conditions and usage of the area. With a wide variety of dimming light control systems with suitable sensor technology, and thanks to open, non-proprietary standards, such solutions can be simply integrated into common building management systems.
Dimming system is suitable for complex applications for controlling rooms and storey, for daylight-dependent control and dynamic light control. 3 types of dimming are available:
DALI dimming
1-10V dimming
DIM switch
Emergency Lighting
Emergency lighting systems ensure optimum lighting and orientation, even in the event of a power failure. General lighting and emergency lighting are combined in a single highly functional, integrative lighting solution.
A wide variety of emergency mode ia available.
Central battery systems / generator
EL1 EN1 & EL2 EN2 makesmode selected.
Self contained battery.
Under this mode, the luminaires could be 12W or 6W, working for 1.5 hours or 3 hours.(depending on the demand selected in advance)
Ni-MH battery we used is high temperature resistant to make sure its life time could be longer than others.
A small spot light is available on 600mm moduleas an extra version featuring a rotating lighting head for emergency use of 5W.
Multi-Sensor System
Multi-sensor system combines energy saving with highly convenience for user. Most energy can be saved by integrating motion and daylight sensor.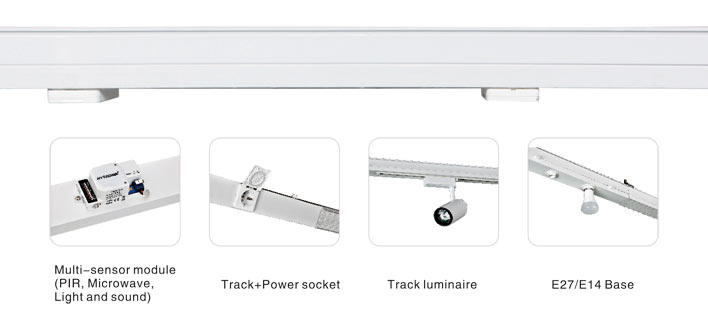 Group control sensor or broadcast control sensor is available under a defined period of time.
Protect against a solid object such as a wire and protected against the ingress dust.
Protected against splashing water from any direct.
Installation
A maximum suspension span of 3m ensures quick and easy installation with fewer suspension points.
Ceiling mounted ,wall mounted and pendant mounted all available.
Surface mounted, chain suspension and wire suspension all available.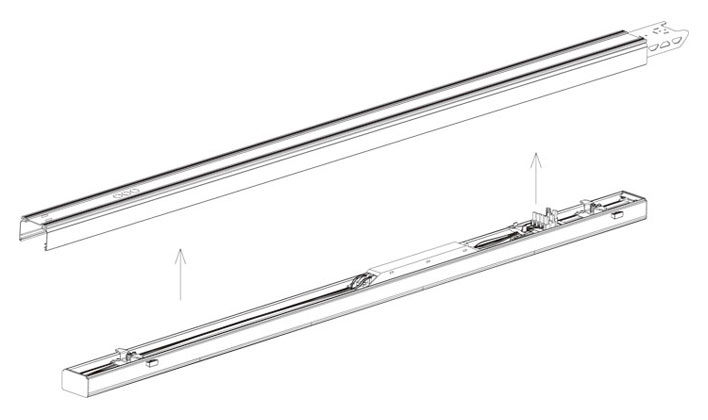 FAQs:
1. How long does it take to get the quotation?
For any interest of our products, you are very welcome to send us feedback or contact us. We will reply ASAP! Generally it takes within 12 hours. For any quick response, please call us directly.
2. How can I get a sample?
Samples are free, however, we charge the shipping cost, which could be deducted in the later order as long as the amount reach our MOQ.
3. Can you provide OEM or ODM service?
Surely we can. We have a professional team which has rich experience in lighting field. A lot of our products carrying our ideas are well sold in North America and European market.
4. What's the lead time for mass production?
It depends on the amount. Generally it takes a month after deposit payment for us to finish the order.
5. What is the terms of delivery?
Generally we offer FOB, however, EXW,CIF,etc are also welcome. Feel free to choose the one suit you best.
No. 617# Yinxian Avenue
Dongqianhu, Ningbo, Zhejiang, China
Tel: 0086-574-87314010
Email: