Excellent Linkable LED Linear Lights From China
The LED linear lighting system is a creative energy-efficient , low maintenance better alternative to traditional linear fluorescent in a variety of industrial, commercial and light assembly applications.
It is the optimal solution for conventional lighting systems and also excellent for new installations. Due to it's low installation cost, everything in one box and installtion is tool-less. It saves both time and costs when installing lighting systems. Also the LED linear lighting system is really good in terms of the low mantenance. That's typical for LED lighting and this also keep costs low.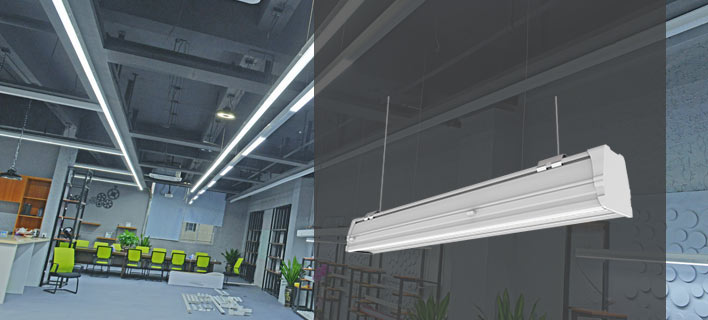 A continuous-row LED lighting system could be created only by a trunking unit and a LED luminaire. It appears as a consistent continuous-row system, without any visual interruption or different reflectors. The luminaire and trunking are perfectly matched to each other.
All system components can be combined without tools. L, T and X connectors expand the system's application range.

Endless combination with diversified modulars.
Tool-free installation
Node connectors enable system to be connected in different directions.
Dimming, self-battery emergency or central emergency function as options.
Support surface ceiling mounting and suspension.
Hot Product Category
Led Energy Saving Lamp


LED Energy Saving Lamp with same PCB+TUBE shape as the traditional compact fluorescent light b...

View All Items




Led Light Bulb


LED Bulb Light, it is most popular demands replacement of A60, A19 100W, 60W, 40W, equal LED b...

View All Items




Led Spot Light


LED Spot Light, MR16,MR11, with GU10,GU5,E27,E14 base to replace the traditional halogen spotl...

View All Items




Led Candle Lamp


LED Candle Light, is wide useful in crystal lamps or chandelier. The new LED candle shape bulb...

View All Items



Fengshuigang Industry Area
Gulin Town, Ningbo, Zhejiang, China
Tel: 0086-574-87314010
Email: